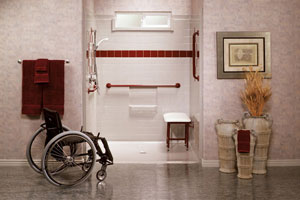 Home remodeling has hit new heights. With the advent of technology, retrofitting your home to make your life easier has become less expensive and more efficient than ever. Too often, people live in homes that do not fit their needs. I personally know several people who are disabled and have trouble maneuvering their own home. Insurance will usually cover some of the retrofitting costs, but the cost allocated and the cost of doing the renovation are often two separate numbers.
From professionally installed ramps, to disabled accessible showers, nothing is out of reach to make your life more comfortable. There are dedicated companies out there to make your home accessible for whatever particular needs you may need. Living in a 2 story home can be an added inconvenience. Now, with the in home chair lifts, you can gain back your upstairs living area and not be confined to lower floors. Stairs, light switches, and showers no longer have to be a dis advantage.
Get some bids today and see how little it costs to retrofit your home.
Comments
comments
Powered by Facebook Comments