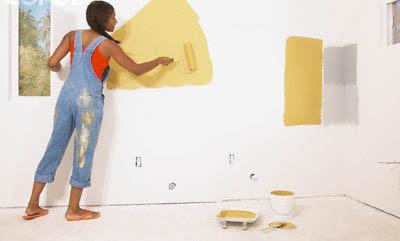 Admit it. The color of your walls change everything, even if it's just throwing in an accent wall. I always say there are 3 things that can change a room; a rug, painting the walls, and/or curtains. I love that one thing that spices the room up! If you're like me, you want to learn how to do everything yourself. It just can't be too difficult, or we're calling in the professionals. I am still trying to decide if I want, and even have time to paint my owns walls, or if I want to call a professional. Regardless, I did some research. I want to know how to paint my walls the like a professional.
First thing's always first; supplies. You will need measuring tape, blue tape, and a screwdriver. I am always thinking how to save money. Measure the walls, so you know how much paint to buy. Line the walls with blue tape, so that your paint doesn't leak under. The screwdriver is to unscrew any light switches or anything you might want to take off before you start painting. It makes it a lot easier, and looks neater. It's probably safest to buy plastic to cover the floor just in case you have any accidents.
Finally, the fun stuff. You will need the paint and a stirrer. Last time I bought paint from Home Depot, and the stirrer came with it. Badabingbadaboom. You will need a roller tray and a two inch angled brush. It's always best to have an extra roller tray and brush in case you get some help. They aren't too pricey, and it's better to be prepared. Time to paint.
I was thinking about logging onto YouTube and searching for some "How To" videos on how to paint like a professional, but I thought, "who am I kidding?" I am a single mother, and I work full time. I personally don't think hiring a professional painter is overpriced, so that is the route I took. You may have extra time on your hands to try it yourself. I hope it turns out great. If not, I would recommend comparing  some prices and seeing what you find.